---
Client Update December 2021

Client Update December 2021
An update on our services…

5 Star!
We have just had our official inspection by the licensing authority and the good news is that we are to retain our 5 star rating. As far as we are aware we are the only 5 star kennels and cattery in Cheshire East. This is the highest rating that can be awarded. We are so proud of this and we feel it recognises the combined hard work and commitment of such a dedicated team.
Boarding
With many of you now booking a year ahead we are getting booked up far quicker. This applies especially to the school holiday periods. Weekends go first, especially Saturday nights. In fact the only "quieter" periods we have are the months of January and November. To try to help the situation we do limit the number of new clients we register each year, in fact we have now stopped registering new clients for the foreseeable future.
Click HERE to see our latest up-to-date availability.
For instant availability & bookings please ring the office on 01625 525409 or you can email info@newgatekennels.co.uk .
Don't forget our day board service available between 8am – 6pm, 7-days a week!
Grooming & Boarding Prices
Whilst our grooming prices are going up from 1st January 2022, our creche and short stay  boarding prices are staying the same. Pets from the same family (same address) will continue to receive a discount, however the discount for stays of more than 4 days will be discontinued read about it HERE.
Cancellation Charges
Since March 2000 all cancellation and reduction of board charges have been suspended.  From 1st January 2022 our existing cancellation policy will be reinstated, the policy also includes a reduction of stay change, read about it HERE.
Grooming
Our Grooming service remains very popular, we are taking bookings for dates in January and beyond. To help with availability we have now stopped registering new clients for the foreseeable future.
As of 1st January 2022 we will be increasing our grooming prices. If your dog has a grooming appointment before the end of the year, you will be informed of the new 2022 grooming price on collection. If you would like further information or to make a booking, please ring the office on 01625 525409.
On-site Shop
With the colder days and darker nights now here, we have our Winter range in our on-site shop, including winter coats and high visibility accessories for dogs. We also have some of our Christmas stock on display, more hopefully on the way soon!
Our shop is open 7 days a week, 8am – 6pm. Don't forget about our Shop Loyalty Scheme, ask at reception for more details.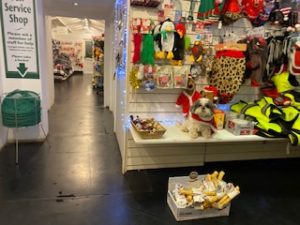 Online Shop
Our Rotherwood Mill food remains very popular and we are still offering our introductory offer… All clients can get 20% off their first order, enter FIRST20 at the checkout.
Unfortunately, the manufacturer has informed us that due to the ongoing nationwide haulage disruption, there is now a 7-day delay in you receiving your order. We apologise for this and hope the disruption is short-term. If you find that you are running short our on-site shop is open daily.
Social Media
Don't forget to follow us on INSTAGRAM and FACEBOOK for updates on all our services.
Thank you again for your continued support.
Newgate Kennels and Cattery Ltd