---
We're still open!
We're still open!
hello from all of us!
We hope you are keeping well; we are still all okay here at Newgate.
With the lockdown starting again, we just wanted to let you know that we're still open. We are considered an essential business provider.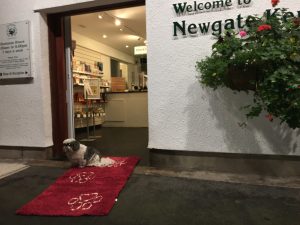 It may be November, we may be in Lockdown but the hanging baskets are still flowering and Lola is out with the red carpet so you are assured of a warm welcome.
Boarding
Our boarding service remains fully operational, including our day creche service. To make a booking please email info@newgatekennels.co.uk or call 01625 525409
Grooming
Unfortunately, we have had to suspend our grooming appointments during Lockdown until Wednesday 2nd December. If you have an appointment we will telephone you to re-arrange.
However, under Government guidelines if you think that your dog's coat is becoming a welfare issue please contact us on 01625 525409 or info@newgatekennels.co.uk and we will do what we can to help.
Pet Shop
The pet Shop remains open 7 days-a-week 8am-6pm, it is well stocked. We also provide a delivery service.
Instagram
Don't forget to follow us on INSTAGRAM and FACEBOOK for updates on all our services plus cute pictures of Lola!
Thank you for your co-operation and for your continued support!
Newgate Kennels and Cattery Ltd